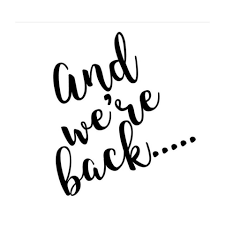 WE'RE BAAAACCKK!!! Outshine Hairdressing is now reopen for business and we could not be happier!! Do not get us wrong, we have loved spending lots of quality time with our loved ones, but we were also missing our Outshine family too!
As the government gave the green light for hairdressers to reopen on the 4th July, we jumped for joy….and started the mammoth task of rebooking over 600 clients! The new OUTSHINE HAIRDRESSING name could finally start making its mark!
As the UK becomes accustomed to the "new normal", the girls had a training day on 4th July to run through the new health and safety procedures that are now in place in the salon….and of course to get their own hair done!! Believe it or not, we had roots too!!
Outshine Hairdressing picked up its scissors to clients on Monday 6th July for an all systems go busy weeks ahead! To make sure everyone feels amazing again, the salon will be open 7 days a week, 12 hours a day till August. The first week of course came with some teething problems – slow computer systems, broken PDQ machines, blocked sinks……however this did not dampen our spirits, we were just glad to be back!
So far, we have not seen any major home colour hair disasters or wonky fringes so well done to everyone for resisting the urge to pick up the garden shears and a massive thank you for being so loyal! If you have been following our socials or on our mailing list, you will have seen all the extra health and safety procedures we have now in place, if you haven't (why not?!), please see below an outline of the new procedures in place:
Stylists have taken online courses to ensure we are certified in Barbicide® COVID-19 health and safety.
PPE is provided to all staff including visors and aprons.
As per government guidelines, we strongly advise all clients to wear a face mask/covering, however we understand if you have asthma or other respiratory problems this may not be possible. Please ensure your face mask/covering fastens around your ears and not your head.
New disposable towels are being used to ensure it is only ever one per client. (Do not worry, we are washing them afterwards and using as cleaning rags to help the environment!)
Hand sanitation areas have been set up around the salon as you enter and leave, and we have full hand washing facilities available. We will ask you to wash your hands when entering the salon.
There is no waiting area. Please arrive on time to your appointment. If you arrive early you will be asked to wait outside, this is for your protection as well as the stylists and other clients in the salon at the time.
Please come to your appointment alone and bring as little as possible with you.
Extra time will be given between each client to allow full sanitation of the area, tools and to allow stylists to sanitise themselves and change their PPE.
Only water in disposable cups will be provided for refreshment and there will be no magazines on offer.
Due to the restrictions of how many people can be in the salon at one time, we are trying our very best to accommodate everyone and we thank you all for being so patient with us and working with us to ensure the safety of everyone. The guidelines seem to be changing frequently, please keep checking our Covid-19 Safety in the salon section on our website for the most up to date information.
Lauren has now left Outshine Hairdressing and we wish her all the best for the future. Whilst we feel certain the current measures are temporary, we will not be taking anything or anyone for granted, and if guidelines change, we will always ensure the safety of our clients and team is the priority.
We look forward to seeing you all back in the salon and hearing about your life during lockdown very soon!
Continue to stay safe and lots of love
Outshine team